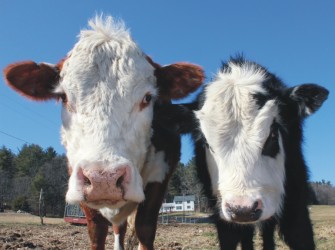 Pasteurized creamline milk, fresh cheeses, maple syrup, all-natural pasture-raised Angus beef, and free-range eggs–all 100% made, grown, or raised on our family farm!
Located just outside of Northampton in western Massachusetts, Mayval Farm has been in the Parsons family since 1778. With about 100 registered Holstein, Jersey, and Brown Swiss dairy cows, our farm is one of only about 150 dairy farms remaining in Massachusetts. Starting this spring, we are bottling our own Grade A pasteurized milk and making cheese in the farm's new creamery. Creamline milk and fresh cheeses, along with maple syrup, grass-fed beef and free-range eggs, are all available at the creamery farm store at 137 Easthampton Rd., right around the corner from the dairy barn.
In the springtime, we proudly continue the decades-old tradition of making maple syrup and maple cream from the trees around the farm (MAYple VALley). Maple syrup and cream are available at the creamery farm store, online at the farm web store, and, if the farm store is closed, at the front door of the farm house at 149 Easthampton Road.
We are extending creamery farm store hours for the summer. The store is now open Tues-Sun, 8am-7pm. We look forward to seeing you!
What's in season?
Spring is here, and we have compost! $6 per 40 lb bag, $30 per cubic yard. Bring a truck, and we will load you. Please call (413) 527-6274 or email margie<at>mayvalfarm<dot>com to set up a time with our bucket loader.
Our brand new creamery is up and running! We are bottling milk and making fresh cheese right on the farm! We have pasteurized creamline (non-homogenized) milk, Skyr (similar to strained yogurt), and Fromage Blanc cheese in several flavors for sale at the creamery. Please check Facebook for spring hours and the most up-to-date information.
Mayval USDA-inspected, naturally-raised Angus beef is in stock! Born and raised on the farm without hormones or antibiotics. This beef spent the grazing season in the pasture on Turkey Hill and wintered on hay and corn silage (no grain). Please check the 2015 beef price list for cuts and further information.
Fresh free-range eggs from our chickens are $4 per dozen at the farm store.