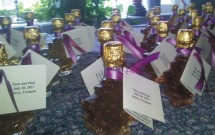 100% pure Massachusetts maple syrup evaporated at our sugar house from sap gathered from maple trees on the farm. Packaged in decorative glass leaves which are great as gifts, as souvenirs, or on the table of the brunch party that you are hosting. All glass bottles are available for
shipping
or convenient pick-up at the farm and are filled exclusively with
Grade A Light Amber
(also known as "Fancy") syrup.
We are also pleased to offer a
maple gift box
with a sampler of our favorite maple syrup products!
If you don't see what you are looking for below, please give us a call or send us an email. We are happy to package special orders of glass leaves or gift boxes.